ON-DEMAND WEBINAR
Why Donors Leave (And How to Keep Them Coming Back Every Year)
Join Instil co-founders and longtime philanthropists, nonprofit founders, board members, donors, and volunteers, Adam Miller and Kirsten Helvey for an inside look at how to attract and keep high-value supporters. In this candid, interactive conversation they discuss the successful cultivation and stewardship tactics that have made them lifelong supporters of their favorite nonprofits (and the missteps to avoid) and the technology you can use to unlock your true potential for supporter engagement and retention.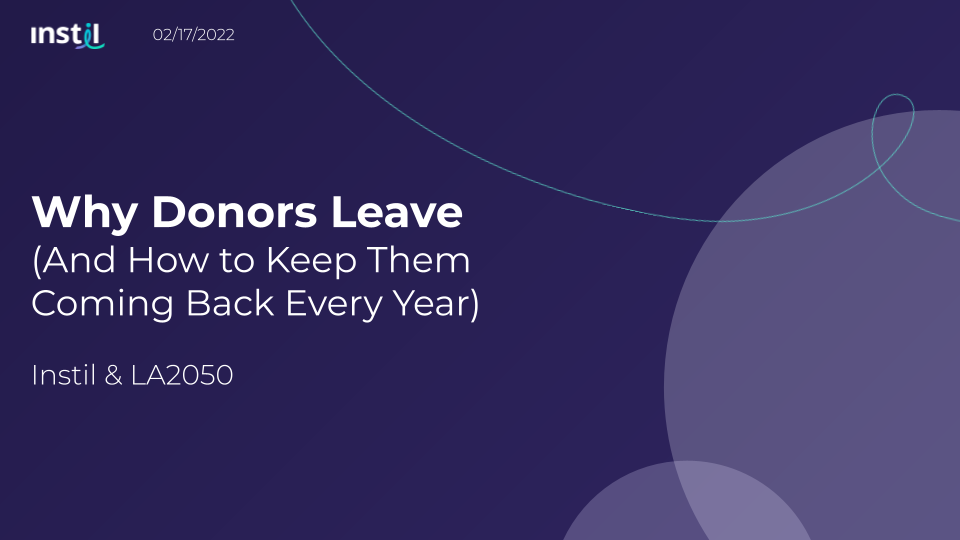 WHAT YOU'LL GET
Here's all the good stuff discussed in this webinar:
Getting Inside Your Donors' Minds
Hear directly from major donors, what keeps them coming back, and what ensures you'll never hear from them again.
Retention Tactics
Discover concrete examples of the actions you can take today to improve donor retention long-term.
Upgrading Gifts
Learn the secret to getting bigger gifts each time, by knowing who to ask and how to personalize your outreach.
Holistic Engagement
Your donors have more than money to give! Gain additional frameworks for holistic value, including volunteer time and peer network referrals.
ADDITIONAL RESOURCES
Donor Cultivation & Stewardship Plan Template
All ready to go? Download our template for planning and organizing your relationship management efforts to streamline your work and maximize fundraising.